Covid: Essex declares major incident over virus cases
December 30, 2020
5
7 minutes read
A major incident has been declared in Essex amid fears the number of Covid-19 cases could overwhelm the county's health services.
The Essex Resilience Forum (ERF) said growing demand was putting stress on hospitals and social care settings.
In Parliament, a local MP revealed officials dealing with the outbreak have asked for military support.
Essex remains in tier four and the south of the county has some of the worst-affected districts in England.
ERF board member Anthony McKeever said the move was a "signal for help" being needed from central government.
Conservative MP for Harwich and North Essex Bernard Jenkin said in the Commons that local officials were submitting a request for military assistance to the Civil Authority.
The MP said they wanted the armed forces to help with the "construction of community hospitals and additional hospital capacity" and help staff those sites.
"They would also like armed forces help with the rollout of the vaccine to accelerate that in Essex and to assist with testing in schools," he added.
Health Secretary Matt Hancock replied that he would look "favourably" on the request and acknowledged the county was under "very significant" pressure.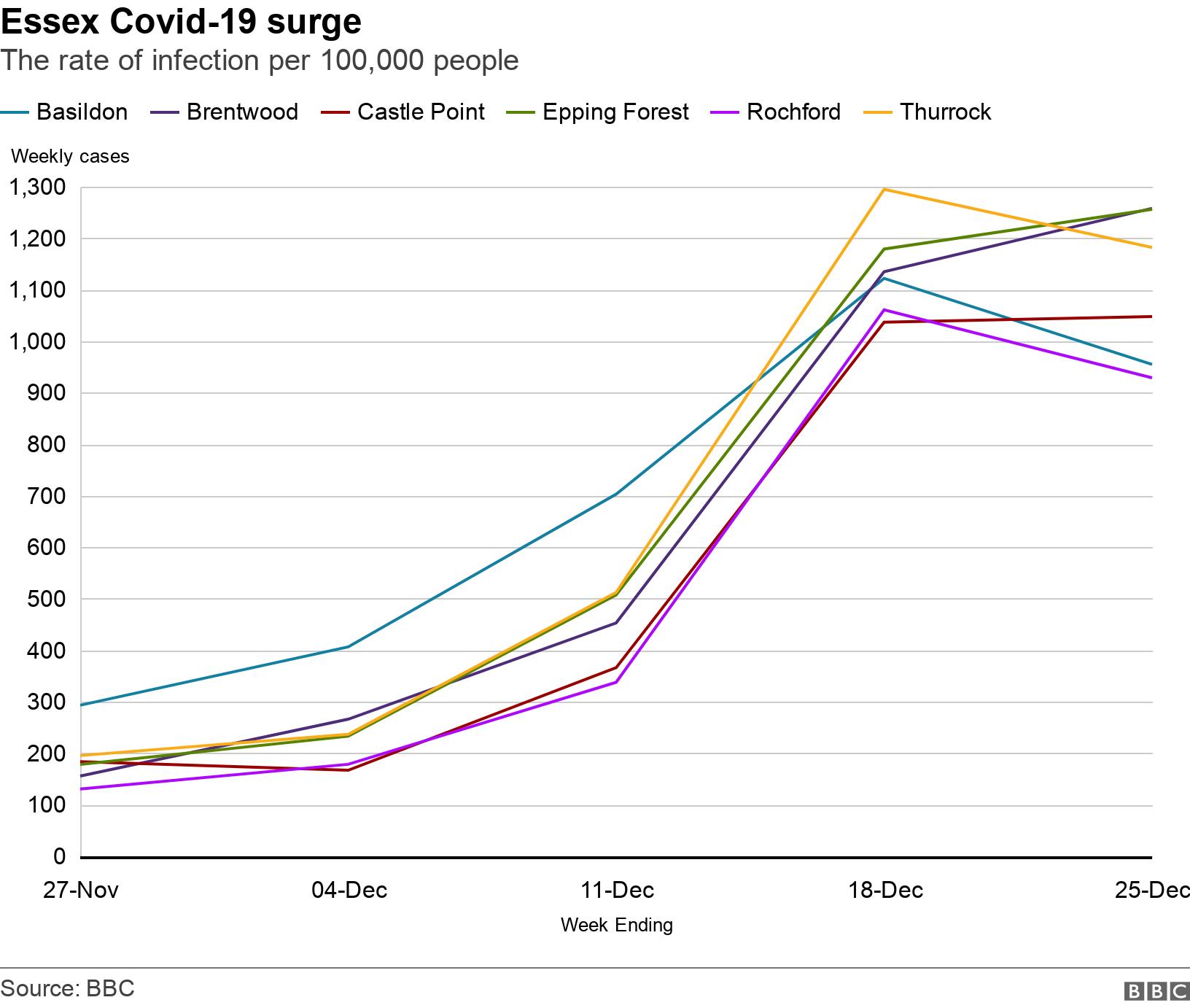 ERF said the number of patients being treated for Covid in the county had exceeded the levels seen at the peak of the first wave and "these levels are likely to increase further in the coming days".
He said: "The NHS is doing all it can to help itself. We need to keep the flow [of patients] through the hospitals at a rate that means it doesn't back up to the front door."
Essex Police Chief Constable BJ Harrington, who is co-chairman of the ERF, said declaring a major incident allowed it "to seek further support from the government to address the severe pressures which the health system is under".
The ERF, which is comprised of health services, blue-light responders and councils, said issues included "critical care and bed capacity, staff sickness/self-isolation levels and the system's ability to discharge patients quickly into safe environments".
Mr Harrington urged the public to continue only dialling 999 or attending A&E in an emergency.
Robert Halfon, the Conservative MP for Harlow, said the declaration of a major incident was "incredibly alarming".
He said: "I welcome the decision of the local resilience board. Hopefully, it will mean hospitals get the resources they need to help with this very difficult situation."
Primary schools in the districts of Brentwood, Epping Forest, Castle Point, Basildon, Rochford, Harlow, Chelmsford, Braintree, Maldon, Southend on Sea and Thurrock will remain closed temporarily, to help regain control of coronavirus.
Secondary schools across are to remain closed for an extra two weeks, except for exam-year pupils who return in the week of 11 January.
Mr Williamson said temporary shutdowns would cut chains of transmission.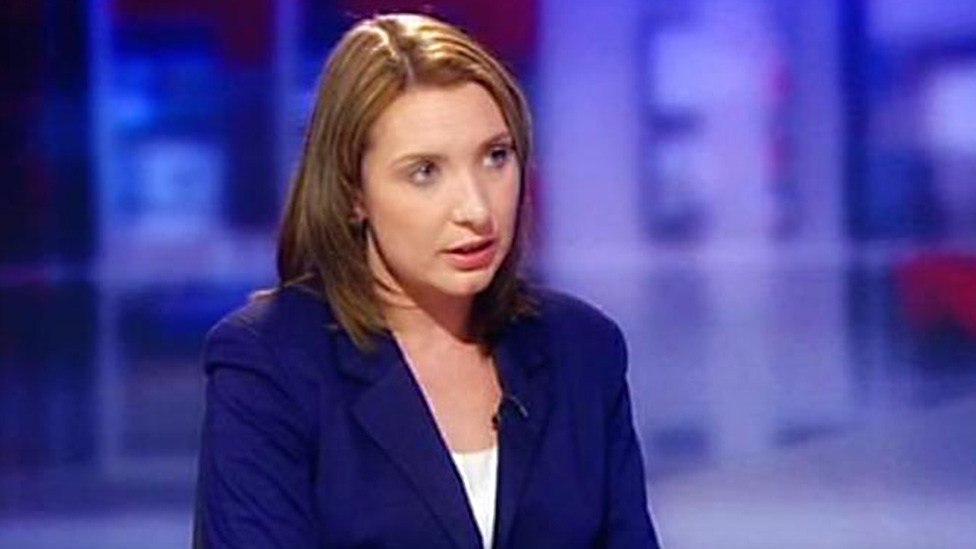 BBC
There aren't enough staff to deal with the patients coming in
Hospital admissions for Covid in Mid and South Essex are more than double what they were during the first wave.
Some 700 staff – or 5% of the workforce – are either off sick or isolating so the combination of factors is causing a big problem. There simply aren't enough staff to deal with the patients coming in.
Why is Essex in this situation? Neighbouring areas like Kent and London are in similar positions. London has already declared a major incident and Kent is the area with the biggest outbreak of the new more contagious strain of the virus. It also has a large commuter population.
Declaring a major incident could mean some Essex patients will be transferred to the two Covid-19 surge hospitals in the region in Cambridge and at the Norfolk and Norwich University Hospital.
Staff will also be asked if they're willing to cancel leave, and there will possibly be more government funding for Essex to open mothballed care homes or wards in community hospitals.
Fire service personnel in Essex are also being asked to drive ambulances. Some East of England ambulances are already being redeployed to London so more staff are needed in places like Essex which now has its own problems.
Lastly, declaring a major incident means Essex could ask the army for help. Members of the armed forces from Colchester Garrison have already helped to extend capacity at the community hospital in Brentwood. They could be called upon again.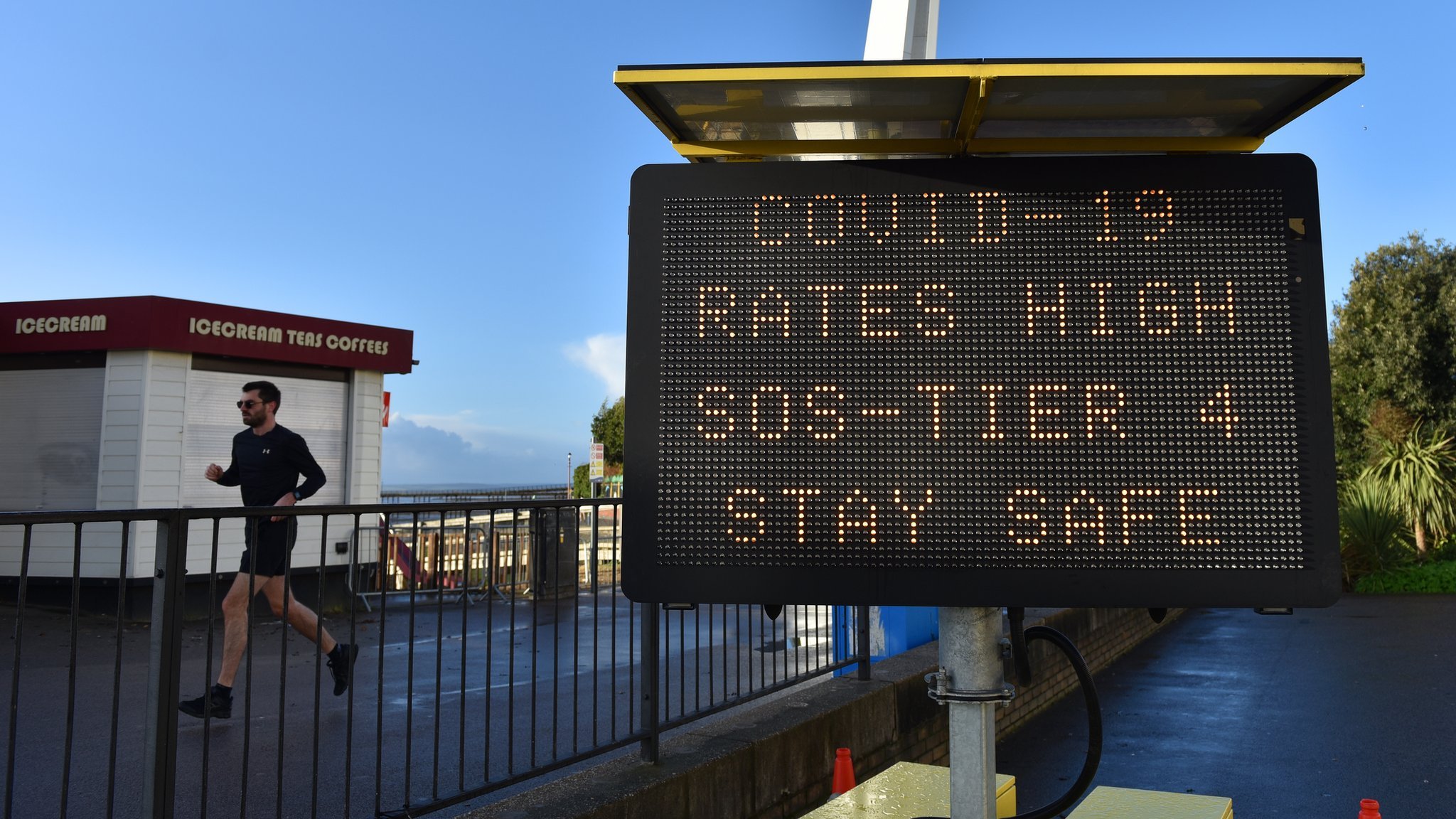 Part-time NHS nurse Jackie Beavis, 67, said her sister died on Sunday with Covid-19 at a recuperation centre for patients in Harlow.
Mrs Beavis, who lives in Southend, said her sister Elizabeth Doran had been "laughing and joking" the day before when she had been transferred to the site from Southend University Hospital.
"Yes, my sister was 73 but apart from hip problems she didn't have any chest problems or anything," she said.
She urged younger people not to act as though they are "oblivious" to the disease.
"I see them walking past where I live in groups of six, 12, 15, all their arms round each other, and they just don't realise the danger of it."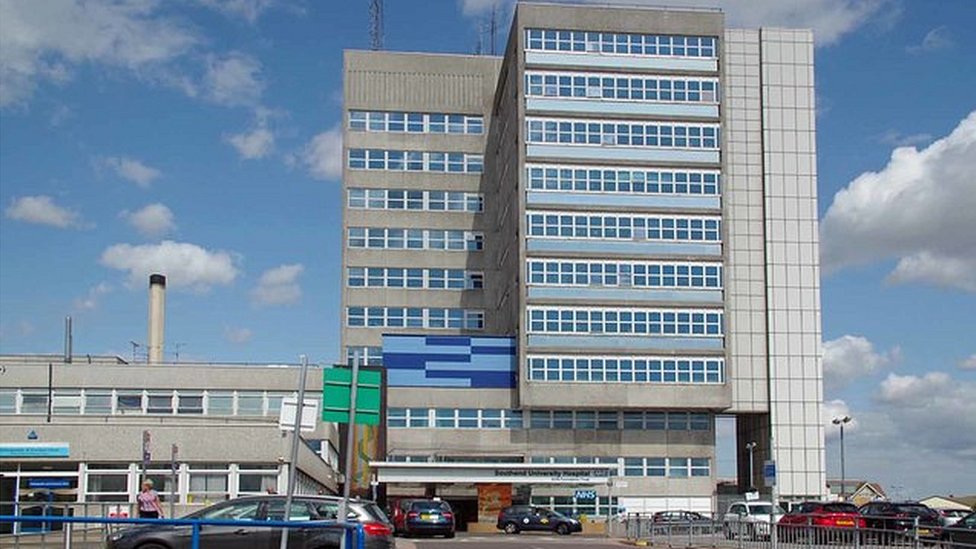 The Department for Health has been approached about what government help Essex can expect.
On Monday, figures showed the number of patients being treated for Covid-19 across hospitals in England was at a record high of 20,426 – exceeding the previous peak of about 19,000 in April.
The latest government figures show there were 549 Covid patients at Southend, Basildon and Broomfield University hospitals, run by the Mid and South Essex NHS Trust, which is the highest total since the start of the pandemic.
Clinical staff employed by the trust were also asked to cancel their leave and return to work to help tackle an "increasingly difficult situation".
The Norfolk and Norwich University Hospital has been primed to take Covid patients from Essex to help relieve pressure on the county's medical services.
Norfolk's biggest general hospital has been designated a "surge" hospital for the east of England to deal with overflows of virus patients.
Brentwood continues to have the highest rates of Covid in England with 969 new cases recorded in the seven days to 25 December – the equivalent of 1,258.1 cases per 100,000 people – up from 1,134.8 in the seven days to 18 December.
Epping Forest, also in Essex, has the second highest rate, up from 1,179.3 to 1,256.0 per 100,000 people, with 1,654 new cases.
Thurrock, again in Essex, is in third place, where the rate has fallen slightly from 1,295.2 to 1,181.6, with 2,060 new cases.
The average Covid-19 rate per 100,000 of the population in England is 402.6.

Please include a contact number if you are willing to speak to a BBC journalist. You can also get in touch in the following ways:
If you are reading this page and can't see the form you will need to visit the mobile version of the BBC website to submit your question or comment or you can email us at HaveYourSay@bbc.co.uk. Please include your name, age and location with any submission.